The History Of Hunter Motorcycles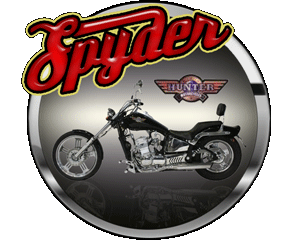 The original founder of Hunter Motorcycles had a vision. He grew up riding Triumphs and Harleys, building custom choppers and partying hard with his mates. As his own kids came of road riding license age, and with the law closing in on cool custom bikes, he decided to do something about the lack of choice in motorcycles you'd be proud to be seen riding.
In consultation with bike builders across the globe, the idea of creating the COOLEST LEARNER LEGAL cruiser was formed. With limited funds, but boundless passion, the dream evolved into reality and Hunter Motorcycles was born.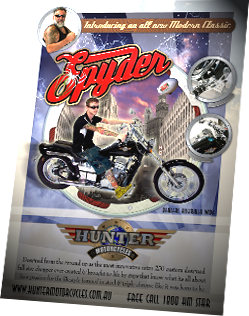 The first Hunter Spyder 250cc was approved by the Dept. of Infrastructure for sale in Australia in 2007. As soon as the first shipment of Hunter Motorcycles hit dealer showroom floors across the country, the Spyder was an immediate success, with the brand gaining an almost cult like following which continues to this day. Never before had learner riders had such choice and the opportunity to ride a motorcycle with the custom styling as the Hunter Spyder. Young and old riders alike embraced the unique style and custom look.
With glowing praise and endorsements from major publications such as Live To Ride, Heavy Duty and Road Rider Cruiser motorcycle magazines, the Hunter brand was on its way. Quotes such as "jaw dropping" and "seriously breathtaking bike" were bandied about by hard core motorcycle reviewers. The Logie award winning TV personality and comedian Pauly Fenech bought a Spyder of his own, customised it, then went on to feature our bikes in his smash hit comedy Housos, ridden in the show by Aussie rock legend Angry Anderson and members of HUNTERZ MC.
In 2010, Ben Namnik came aboard as WA, NT & SA distributor, injecting fresh enthusiasm and was soon assisting the founder with the running of the company.
Around the same time, the motors went from 250cc to 350cc EFI, and two new models were introduced to the range. The Hunter Daytona, with a sportier look and feel, and the iconic Hunter Bobber were approved for sale in Australia, and took the Hunter Motorcycles to new heights of popularity. The feedback from happy owners has been phenomenal, from new riders to those returning to motorcycling, from old bikers sharing the passion with their sons and daughters, or young people whose fantasies involved owning an awesome bike of their own, Hunter Motorcycles has helped fulfil the dreams of lovers of motorbikes all over the country.
Hunter has been featured on motorcycling TV shows On2Wheels with Keith Williams, and more recently, Temporary Australians hosted by Greg Hirst, long-time advocate of motorcycling rights in Australia. Hunter Motorcycles have definitely earned their place as the most admired and desired Learner Legal bikes ever to be sold.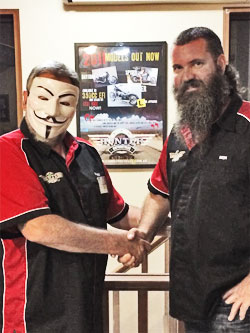 In 2014, the founder decided to transition into retirement, handing over the reins of Hunter Motorcycles to Ben and his partner Trudy. A whole 6+ tonne of spare parts were shipped from home base in NSW over to the new owners in Western Australia, where Hunter Motorcycles is now located. As long time riders themselves, Ben & Trudy are continuing the tradition of bringing the best Learner Legal bikes to the people of Australia. Their dedication to customer service is second to none, and with them the passion and love of Hunter Motorcycles lives on, as a legacy to one mans dream.